Search
Samsung Galaxy Note 8 (Midnight Black) | 6GB | 64GB | Refurbished | With Complete Box and Accessories (1)
Dispatched within:
5 days
Price:
₹ 39,805.00
39805.00
add to wish list
4.1
Product code:
s8 samsung_20181031030244
Description
Samsung Galaxy Note 8 (Midnight Black) | 6GB | 64GB | Refurbished 
See the bigger picture and communicate in a whole new way. With the Galaxy Note8 in your hand, bigger things are just waiting to happen.
Design
The Infinity Display that's larger than life. More screen means more space to do great things. Go big with the Galaxy Note8's 16.05cm (6.3") screen. It's the largest ever screen on a Note device and it still fits easily in your hand.
Wider view
Cinematic experience. Even watching movies is simply more enjoyable with the Infinity Display's 18.5:9 aspect ratio. In landscape mode, the Galaxy Note8 offers a 14% wider viewing area that makes for a richer, more immersive experience that pulls you in wherever you are.
S Pen
The S Pen. A whole new way to communicate. Use the S Pen to express yourself in ways that make a difference. Draw your own emojis to show how you feel or write a message on a photo and send it as a handwritten note. Do things that matter with the S Pen.
Camera
Photos, clear and steady even in low light. Get crisp photos even when it's dark and it's difficult to keep your phone steady. The Galaxy Note8's dual camera has a wide-angle camera that comes with the great low-light capabilities that you've come to expect from Galaxy phones. The dual camera supports 2x optical zoom so you get sharp photos or videos even from a distance, and both cameras have optical image stabilisation so you get steady shots even when zoomed in.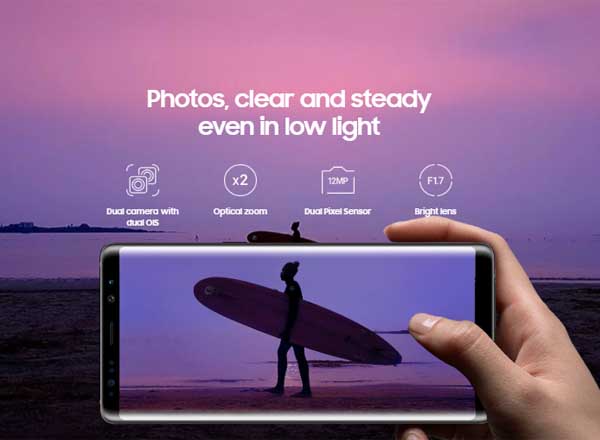 Performance
Do more with the high-performing phone. Whether you're downloading games or multitasking, it's fast and seamless on the Galaxy Note8 because the high-performing 10nm mobile processor and 6GB RAM make things run smoothly. Additionally, with wireless charging, power is on your side.
Smart Switch
Switching to a phone that lets you do bigger things. Making the move can be a big step, but it doesn't have to be a hassle. Smart Switch makes it incredibly simple to move important stuff from your old phone to your new Galaxy Note8. With your contacts, settings, messages, and photos right where you need them, you can simply pick up where you left off.
Multi Window
Launch two apps with a single tap. The 18.5:9 aspect ratio was made for multitasking. Turn on Multi Window mode to have two apps open at the same time. And for those two apps that you use together, App Pairing presets let you open them simultaneously with a tap. Now it's simpler than ever to listen to music as you find your way or read reviews as you shop.
Product reviews (0)
Please Note
Our all products come with 30 Days seller warranty 
Any item returned for warranty must be returned in the same condition that it was received
These are sample pictures of our product. They help you give an idea of how the actual product will look like. Original product shipped to you may have some signs of wear or minor scratch but we try to ensure that you always get a quality product!
These machines are cosmetically in very good and in fully working condition.
For More Information Please feel free and mail us sales@hilaptop.com
FAQ Frequently asked question https://www.hilaptop.com/questions-and-answers
Product of the Day
Bestsellers